GOODWILL IMPAIRMENT ANALYSIS TOOL
Under current FASB accounting guidance, companies are now required to evaluate their goodwill for impairment on an annual basis. To meet this need, we offer this product to help companies with the valuation process.
ASC 350 (formerly FAS No. 142, "Goodwill and Other Intangible Assets") is effective for fiscal years beginning after December 15, 2001 and requires that goodwill no longer be amortized. It further requires that goodwill for each reporting unit be tested for impairment. Impairment is a condition that exists when recorded goodwill exceeds its fair value. The Statement describes a two-step impairment test, which determines potential impairment and calculates required impairment loss, if any.
To assist you in performing the analysis prescribed in ASC 350, we offer the following Excel-based product: ASC 350/FAS142 Goodwill Impairment Tool for $399.

Product Details
This product can be purchased online and downloaded for immediate use. Once purchased, there are no ongoing costs, and it can be used by unlimited users within the same Company or entity. In order to use our Tools, you must have a current version of Excel (Office XP or greater).
We offer a variety of Excel-based tools to assist companies in complying with accounting requirements. This Tool take assumptions as inputs and with the push of a button, produce a valuation based on those assumptions using industry-standard methods. The formulas are protected from tampering to prevent accidental deletion or modification.
We also provide consulting services to assist with ASC350 evaluations. Please contact us at consulting@procognis.com for more details.
Feel free to contact us at sales@procognis.com if you have any questions about this Tool.
---
Ordering Information

The Goodwill Impairment Tool is available for $399 for download.

IMPORTANT: After completing the PayPal payment, click the 'Return to Merchant' button to start the download.
---
Example Screenshots from our Goodwill Impairment Tool: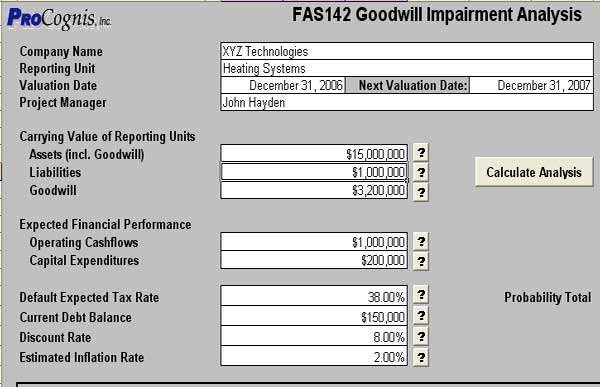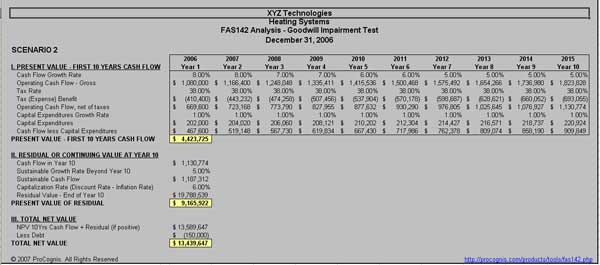 Supported ASC350 Goodwill Impairment Tool
Easy method to track and evaluate Goodwill for a variety of units
Troublefree solution for only $399!
"We use Excel, a tool that you already know and use every day, so that you can get started right away."