Testing – Select Sample, Test Controls and Track Results
Select Sample and Verify Effectiveness of Controls
Once you have copied the files to the current year directory, you can begin the testing process. In the steps tab of each system workbook, you will have a testing section for the risks identified. In the testing section you will input a population to test. Examples of populations include checks issued, customers, vendors, journal entries, months in the year, items in a report. Anything you can quantify can be a population. Click on the 'select sample' button. The system will make selections, based on the calculated sample size, and automatically populate the testing section. Now it is your turn to obtain the items selected and verify that the control is functioning as designed. After you have done this, each test is marked as a success or a failure requiring remediation.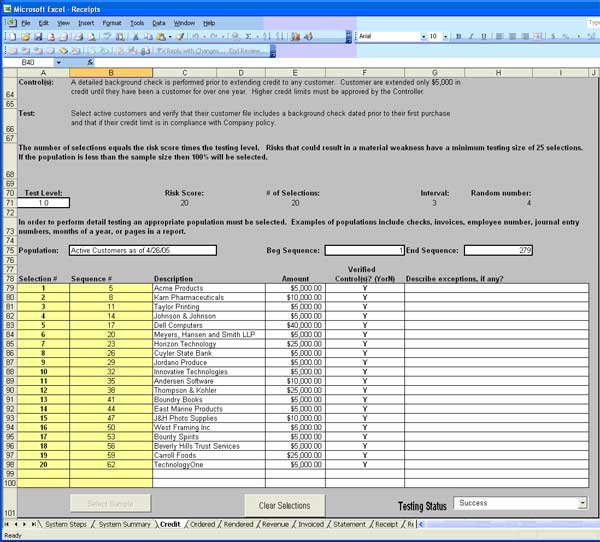 Track your Results
404 Compliance is a large project and we have built in tools to help you manage it more effectively. An important tool is our 'System Summary' tab in each system workbook. One click of the 'update summary' button on this tab and you get an updated listing of all the work performed on this system and the status of that work. You will use this tool during the testing phase to ensure that all testing is marked as complete.