Planning - Map Financial Statement Items and Edit Documents
Map systems to financial statement assertions. The next tab is used to map your systems to the components of your financial statements. This is to document that all components of your financial statements are covered. Financial statement components are listed across the columns and your systems are listed down the rows. Type an X in the corresponding box if the system will include that financial statement component. When you have completed this, look down the column and see if any financial statement components have no Xs. This might mean that you have missed a significant system.
At the bottom of the page, you will see the financial statement assertions: Completeness, Existence/Documentation, Valuation, Rights and Obligations, and Presentation and Disclosure. We have mapped them to the financial statements for you, but you may make any adjustment to conform to your company's circumstances.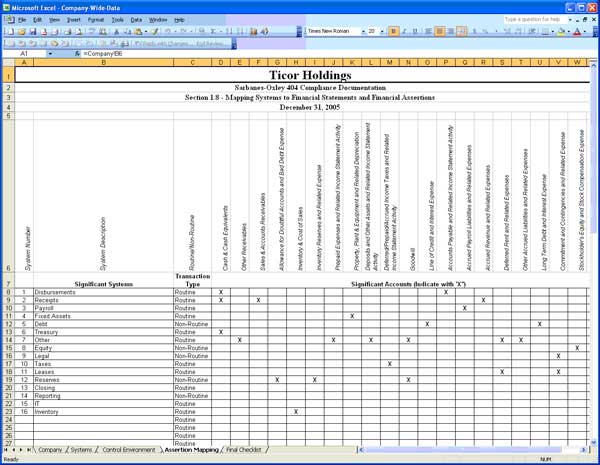 Edit and print the planning templates. You now compile your compliance plan. From Microsoft Word, you will edit each one of the planning documents:
0 Cover Page
0.1 Table of Contents
1 Planning
1.0 Overview of Section 404 of the Sarbanes-Oxley Act
1.1 Company Background
1.2 Control Environment
1.3 Framework
1.4 Staffing
1.5 Timing
1.6 Test Plan
1.7 Identifications of Major Systems
1.8 Mapping of the Financial Statement Assertions
These templates are unlocked and can be modified as needed to fit your circumstances. These files, once updated and edited as needed, should be printed out and compiled together. Collectively, they represent a complete compliance plan which can be submitted to management, the Board of Directors or the outside auditors.