Planning - Company Information and Indentify Systems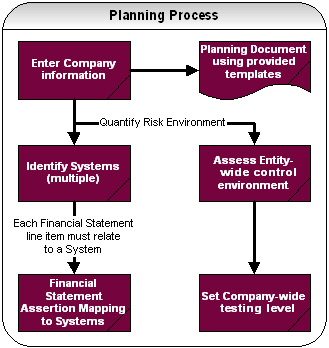 Enter Company Information. The compliance process begins by customizing the 404 Tool templates for your company. You simply enter information about you company in the fields in the 'Company Information' tab. These questions include information about the company, the accounting staff and the project. All questions should be easy to answer for those familiar with the company. This information can also be easily edited later in the process.
The information you provide here will be used throughout the project and will eliminate repetitive data entry. Next year, you will need only to update any changed information.

(Note: Company information and any details listed in this demonstration are only examples, no resemblance to real persons, living or dead or real companies is intended or implied.)
Identify Systems. The next tab is for identifying systems. Systems are components of your accounting/reporting structure. Some examples include: Inventory, Disbursements, Leases, Fixed Assets, and Income Taxes. The systems you select will depend on your industry and your particular company. It is important that every part of your financial reporting is covered by a system.
You will be asked to provide a short file name and then a longer description and system manager for each system. To the left of each system is a button which says 'Create'. Pressing this button will create a workbook for each system that will be used for testing. Once this workbook has been created the button changes to 'Modify' and is used to update the description and other information.
Identifying systems is an important part of the planning process. Often as you go through the process, new systems will be identified. We recommend waiting to create the actual system workbooks until the systems have been finalized.