VOLATILITY SERVICE FOR PUBLIC COMPANIES
We offer the Volatility Service for our customers who would prefer to have our consulting group perform their historical volatility computation. This service is provided by our consulting group using our Volatility Tool and your company's data.
Many companies do not have the time or resources to develop their own volatility assumption. Our consulting group has extensive experience with ASC 718 (formerly FAS123r) implementation and compliance. For companies needing assistance in determining their historical volatility, this service is available for a one-time price of $899 which includes a license for our Volatility Tool. We also offer annual updates for $599 per year.
The service includes the following:
A full license of the Volatility Tool.
Data Analysis of your company's historical stock volatility with up to 20 years of your company's data. (Companies with fewer years will be provided with all available data.)
A detailed memo that can be provided to your auditors, which describes our results and methodology. This memo and the underlying computations can be used to support your volatility assumptions for stock option valuation as required by ASC 718.
To purchase this solution, please see the below payment options and we will contact you via email to obtain the stock symbol and other data including the time period to compute the volatility estimate.
After our computation is complete, we will email a copy of Volatility Tool containing the computed data, source files and the memo describing the methodology and results.
Depending on workload, we estimate a two-week turnaround between the time of the order and when you will receive the completed report. We will notify you what the anticipated schedule will be at the time of initial contact. Please see the FAQ for information about the Volatility Tool. Also, please see the Whitepaper for more information on the new requirements. Feel free to contact us at sales@procognis.com if you have any questions about this Service or the Volatility Tool.
In order for us to perform this service, your company must be publicly traded and have at least three years of stock data. If your company does not have this information we highly recommend our Sector Volatility Service which computes volatility based on other similar companies in your industry.
We also provide consulting services to assist with other aspects of ASC 718 implementation. This includes helping companies develop their assumptions for option term and forfeitures, and assisting in the determination of the expense to be recorded by period. Please contact us at consulting@procognis.com for details.
---
Ordering Information

The Public Company Volatility Service is available for $899 (US Dollars) for volatility estimation work and write-up.

IMPORTANT: After completing the PayPal payment, click the 'Return to Merchant' button to start the download.
---
Example Screenshot from our Volatility Tool: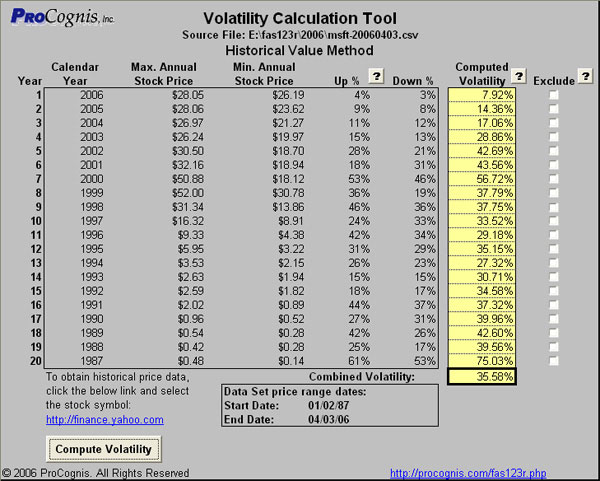 Note: Excel 2002 (Office XP) or later is required to run the Volatility Tool. Excel 2000 has an issue with the file open function.


Volatility Computation for a specific Public Company using historical stock data
Detailed output including source data, conclusions and a write-up describing our methodology and complete analysis of the computation.
Troublefree solution for only $899!
"Our consulting group has extensive experience in ASC 718 implementation and compliance. Leverage this experience with this service."