VOLATILITY INDEX SERVICE
We provide a Volatility Index Service for companies who do not have adequate stock data to compute historic volatility. Valuation models used for ASC 718 (formerly FAS123r), such as Black Scholes and Binomial, require a volatility assumption. Many private companies do not have adequate stock history to develop a meaningful volatility assumption. If there is no current market for your stock or your stock has only recently begun trading, ASC 718 allows for the use of an appropriate index to develop your volatility assumption.
For companies needing assistance in determining an appropriate index and then computing the historic volatility of the underlying stocks, we offer the Volatility Index Service for $899. This Service can be used by any company (although it is most relevant for non-public companies, see our Private Company Bundle for more information) to compute the volatility assumption.
After we have received payment, we will provide you with a professional services contract and request information about your company to help define an appropriate index. Specifically, we are interested in the size of your company and the nature of your business. Once we have that information we will begin researching peer companies. While every analysis we perform is unique, for most companies we will identify between 5 and 10 publicly traded peers.
Once we have identified the peers we will compute volatility for each company using our ProCognis Volatility Tool. Normally, we compute historic volatility based on the last seven years of stock data, however, if you require a longer or shorter period please let us know. We will then weight the results based on how closely the peer companies resemble your company. This will produce a composite volatility rate which our customers can use as their volatility assumption. Finally, we produce a report which contains our methodology and conclusions. This is especially useful to support your assumption to your auditors.
When the analysis has been completed, we will email you the report including our methodology, the source stock data, and the customized Volatility Tool. Depending on workload, we estimate a two-week turnaround between the time of the order and when you will receive the completed report. We will notify you what the anticipated schedule will be at the time of initial contact.
This Service is available for a fixed price of $899, which includes consulting and a license for the Volatility Tool. After the initial analysis has been performed, we provide an optional annual update for $599.
We also offer the Private Company Bundle for $1,399 which includes this service, two hours of additional consulting and a package of four FAS123r software tools (Black Scholes Model, Volatility Tool, Forfeiture & Expected Life Tool and the FAS123r Management Tool). Please see the FAQ for information about the Volatility Tool. Also, please see the Whitepaper for more information on the new requirements.
Feel free to contact us at sales@procognis.com if you have any questions about this Service or the Volatility Tool.
We also provide consulting services on an as-needed basis to assist with other aspects of ASC 718 implementation. This includes helping companies develop their assumptions for option term and forfeitures, and assisting in the determination of the expense to be recorded by period. Please contact us at consulting@procognis.com for details.
---
Ordering Information
The Volatility Index Service is available for $899 (US Dollars)
Example Screenshot from our Volatility Tool: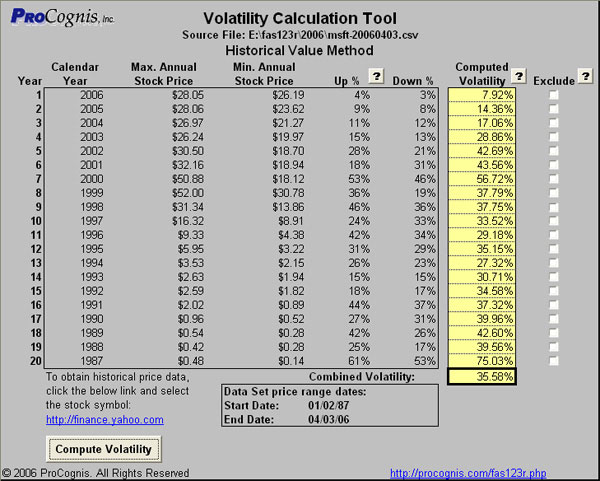 Note: Excel 2002 (Office XP) or later is required to run the Volatility Tool. Excel 2000 has an issue with the file open function.