ESPP STOCK GRANT VALUATION TOOLS
Under current ASC/FASB accounting guidance, companies are required to compute the fair value of their employee stock participation plans ("ESPP"). To meet this need, we offer tools and models to help companies with the valuation process.
We offer an ESPP Black-Scholes Model and an ESPP Management Tool that have been tailored for the unique requirements of ESPP. We also offer our popular Volatility Tool, that uses historical stock data freely available on Yahoo! Finance, to help you develop your volatility assumption. We offer these three products as a software bundle, for the discounted price of $899. For those who only need the ESPP Black-Scholes Valuation Model, we offer that on a stand alone basis for $299.
Our ESPP Management Tool allows you to track and record compensation expense, by month, quarter or fiscal year for multiple grants based on the number of grants, the value per grant and the service period. Please see the Demo for more information.
ESPP Black-Scholes Valuation Model
Our ESPP Black-Scholes Valuation Model has been created to model the value of an ESPP grant using the well established Black-Scholes formula. Generally, ESPP plans allow employees to purchase company stock at the lesser of the market value of the stock at the beginning or the end of the contractual period. These plans also allow a further discount (usually 15%) from the lower of the two prices. Please see the Demo for more information.
ASC 718 (formerly FAS123r) requires that these type of plans be valued in two components: the value of the discount (which the employee receives value for even if the stock does not appreciate) and the value of the look-back period (which is like an option and only has value if the stock appreciates). Our Model values both components and provides you with an overall valuation which can be used to record compensation.
All of our ASC 718 and ESPP products can be purchased online and downloaded for use immediately. Once purchased, there are no ongoing costs, and they can be used by unlimited users within the same Company or entity. In order to use our Tools, you must have a current version of Excel (Office XP or greater).
---
ESPP Software Bundle Ordering Information
The ESPP Software Bundle is available for $899 for download.
IMPORTANT: After completing the PayPal payment, click the 'Return to Merchant' button to start the download
---
ESPP Valuation Model Ordering Information
The ESPP Valuation Model is available for $299 for download.
IMPORTANT: After completing the PayPal payment, click the 'Return to Merchant' button to start the download
---
Product Details
We offer an Excel-based ESPP Black-Scholes model to generate valuations for share-based payments in accordance with ASC 718. The model takes assumptions as inputs and with the push of a button, produces a valuation based on those assumptions using industry-standard methods. The model formulas are protected from tampering to prevent accidental deletion or modification.
We also offer the Volatility Tool to compute the volatility input to the model using historical stock data from Yahoo! finance. Finally, to help you compute the expense and manage your grants, we provide the ESPP Management Tool. These tools can be purchased together along with the Black-Scholes model for an attractive price in the ESPP Bundle (see above).
Download our free whitepaper for more information on stock valuation and how our tools can be used by your company. Please feel free to contact us if you any questions about our products at info@procognis.com. Feel free to contact us at sales@procognis.com if you have any questions about this Model.
We also provide consulting services to assist with ASC 718 implementation. This includes helping companies develop their assumptions for expected volatility, term and forfeitures, and assisting in the determination of the expense to be recorded by period. Please contact us at consulting@procognis.com for details.
Example Screenshots from our ESPP Valuation Model: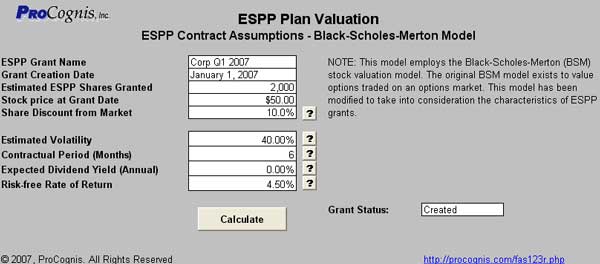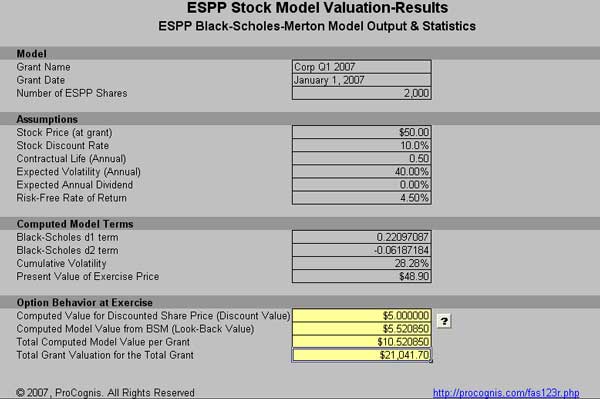 Example Screenshots from our ESPP Management Tool: