BINOMIAL LATTICE OPTION VALUATION MODEL
We offer the powerful Binomial-Lattice model to meet your ASC 718 (formerly FAS123r) option valuation needs. The Binomial-Lattice model is best suited for companies seeking a more sophisticated model that allows for greater flexibilty.
The model is available for a purchase price of $999 and immediate download. Please see the Whitepaper for more information on the new requirements. Also, you may be interested in the powerful Volatility Tool to compute the key volatility input to the model using freely available historical stock data.
Feel free to contact us at sales@procognis.com if you have any questions about this Model.
We also provide consulting services to assist with stock and option valuation and implementation. This includes helping companies develop their assumptions for expected volatility, term and forfeitures, and assisting in the determination of the expense to be recorded by period. Please contact us at consulting@procognis.com for details.
---
Ordering Information
The Binomial-Lattice Model is available for $999 (US Dollars) for download.
IMPORTANT: After completing the PayPal payment, click the 'Return to Merchant' button to start the download.
---
Example Screenshots from our Binomial Lattice Model: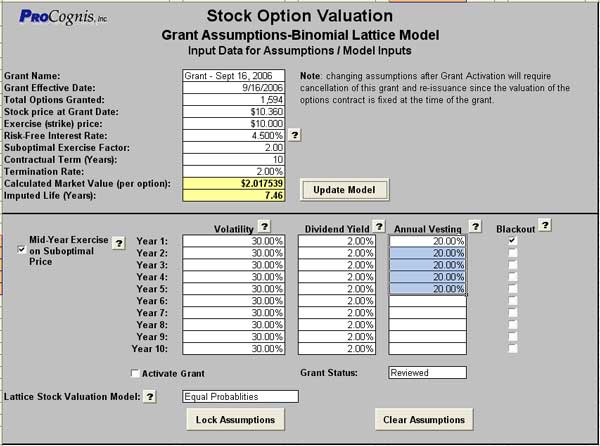 Powerful Software with an Excel interface
Sophisticed Option Valuation Model
Powerful solution for only $999!
"We use Excel, a tool that you already know and use every day, so that you can get started right away."